One of the blogs I read,
Cut To Pieces
started a 'pretty princess sew along' in January.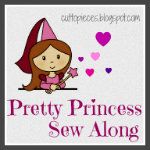 She used a simple peasant style dress - Simplicity 2377 and with fabric and trim made princess dresses. One pattern, lots of dresses. But every day princess dresses that little girls could pull on all by themselves. That were
washable
! I loved them. She did
Alice in Wonderland
,
Rapunzel
, and
Minnie Mouse
.
I have a niece turning 3 this summer, so I decided she needed a few dresses. I made Aurora (Sleeping Beauty), Rapunzel, and Cinderella.
They went together really fast. The hardest part was choosing the fabrics. To do that, I took my
'little people princesses'
to the fabric store and used them to decide on fabric and trim. I do love that Hobby Lobby has their ribbon on sale for1/2 off every other week.
The ribbon on the bottom of Aurora's dress is made from the sleeve fabric and my bias tape maker. The sleeves on Rapunzel's dress are two different fabrics sewn in stripes. Cinerella's hip-poof things are a half circle that took 3 tries to get right. I did put a ribbon in the back neckline so that K could tell front from back - but I really don't think she cares. :) They sew up really fast - 1-2 evenings of sewing will finish a dress including all of the trim..
They don't scream 'I'm a princess dress' ... but K knew what each one was. I brought them with me in June when I went to visit my sister and her kids. (C. got origami paper and a book, A got to make a skirt all by herself - so they weren't left out.) K wore the 3 dresses in rotation (one dress in the morning, another after quiet time), so we decided she needed a couple more. Off to the fabric store and we had fabric for Belle (Beauty and the Beast) and Minne Mouse.
I think Minne Mouse and Rapunzel are my favorites ... but I really like them all.
I made one more for K for her birthday - Snow White. The sleeves took two attempts and the ribbon took 3 ... but it still sewed up reasonably fast. But with a broken camera ... I'll have to wait and get a picture of it later.

Update: K was kind enough to pose for 'first day of school' pictures with her siblings. Isn't it cute!

pattern: Simplicity 2377
fabric: various from JoAnn's and stash with ribbon from Hobby Lobby and JoAnn's.
Thanks to '
Cut to Pieces
' for coming up with the idea and writing the tutorials!